Amp400.8
Wide variety configuration
The Amp400.8 provides an exceptional level of multichannel amplification. As all 8 channels are identical and discreet it can also be used in a 2-channel environment for driving up to 4 pairs of passive speakers.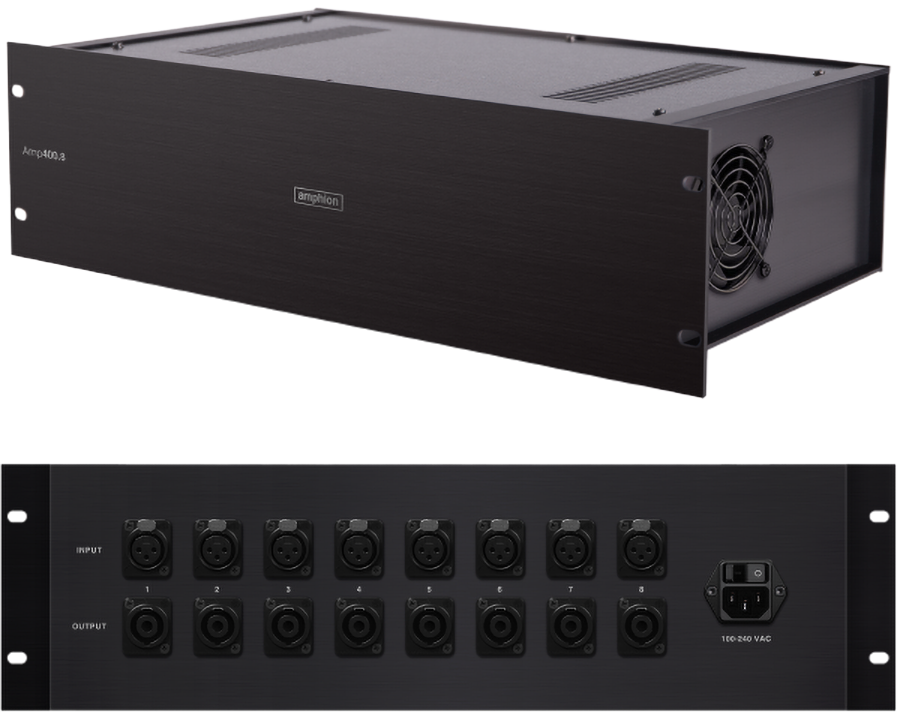 Unique highlights
Low-distortion power
Amp400.8 delivers rock-solid control and tight, fast, highly resolving low-distortion power to get maximum performance from your monitors.
Added performance
To reach the needed sonic performance, a proprietary in-house designed buffer stage compliments the merits of the latest Class-D technology.
The perfect partner
Careful sonic matching and quality components make the amplifiers a perfect partner to all Amphion monitors and other passive speakers.
Henkka Niemisto Brings Impact and Emotion to Immersive Audio Projects with Amphion
Henkka Niemisto – Mastering engineer
Beautifully immersive
Immersive environment sets new demands for monitoring. Precise imaging, defined depth information and immaculate phase behaviour are a must when placing objects on the 3D-grid.
Specifications
Power rating
@1%THD+N, 20Hz–20kHz 410W ( 4 ohm) / 205 W (8 ohm)
Dynamic range
121.5 dB(A)
Inputs
Balanced 3-pin XLR female
Speaker connectors
Neutrik Speakon (NL2FX) 2-pole cable
Mains
Universal mains, auto select (100-240 V, 50-60 Hz)
Casing
19" rack mountable (3U), high quality aluminium
Measurements
483 x 88 x 260 mm