Amphion Amp400.8 Named Finalist for the 38th Annual TEC Awards
Multichannel Class-D Amplifier Nominated in the Amplification/Studio Sound Reinforcement Category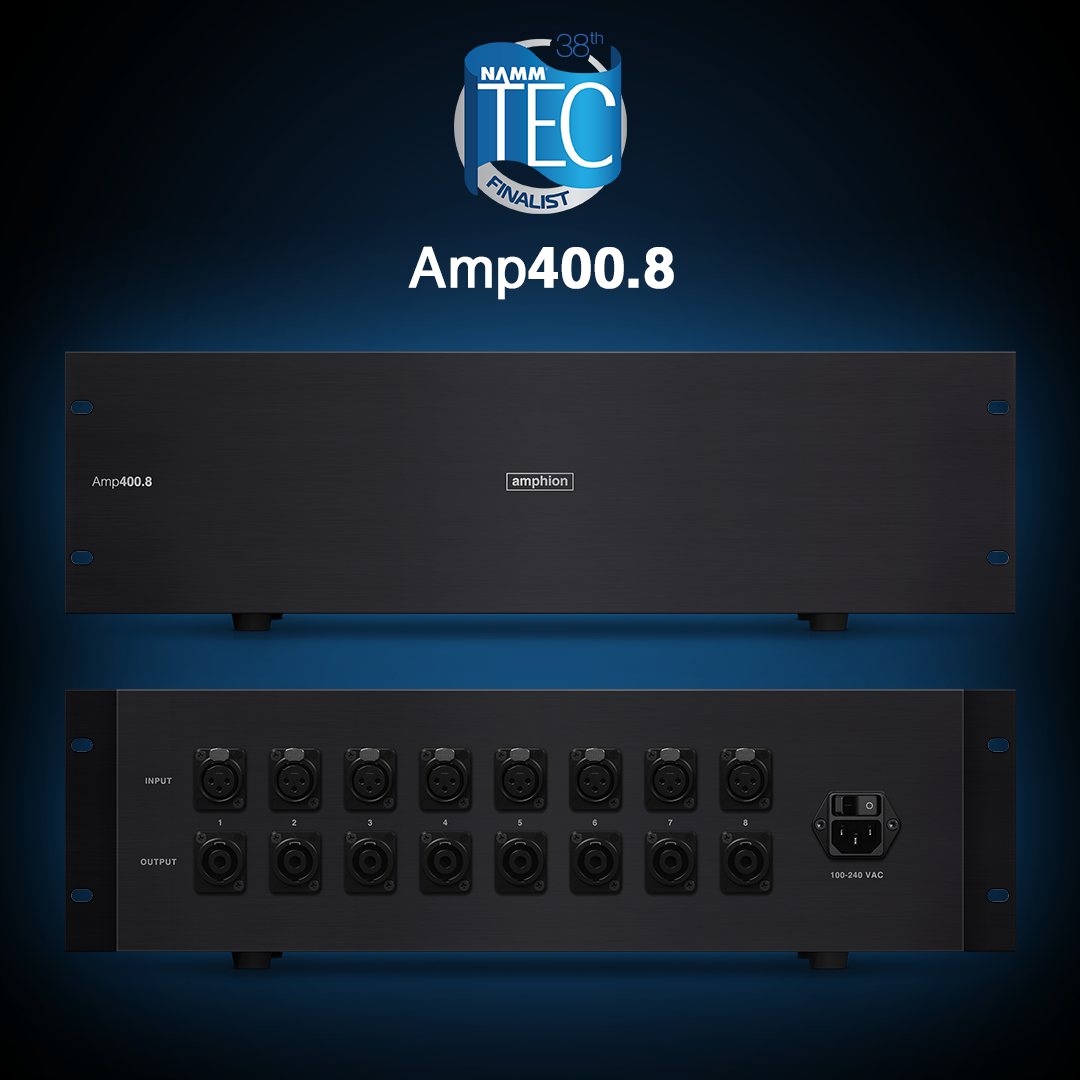 Anaheim, California – Amphion, a Finnish loudspeaker manufacturer, has announced that its AMP400.8 multichannel power amplifier has been nominated for an award for Outstanding Technical Achievement by the NAMM Foundation for its 38th Annual Technical Excellence & Creativity (TEC) Awards. The Amp400.8 was nominated in the Amplification/ Studio & Sound Reinforcement category. This marks the second consecutive year that an Amphion product has been selected as a TEC Award finalist, with the BaseTwo25 earning that honor in the Studio Monitor category last year.
The NAMM TEC Awards are the pro-audio and musical instrument industries' most prestigious awards, celebrating the spirit of innovation and honoring best-in-class products in the design and manufacturing community. A panel of leaders in the audio and production industries carefully evaluated each entry before selecting the Amp400.8 as a finalist. During the last week of October. Winners for each category will be announced during the annual TEC Awards ceremony during the 2023 NAMM Show on April 13, 2023.
"Immersive environment sets new demands for monitoring," CEO, Anssi Hyvonen begins. "Precise imaging, defined depth information and immaculate phase behaviour are a must when placing objects on the 3D-grid. We were pleased to hear about the nomination, as detail, speed and imaging of Amp400.8 allows creating reference quality immersive systems with real world budgets."
Exceptional Multichannel Amplification ​
​Amphion developed the Amp400.8 with immersive audio in mind, providing 8 identical and discrete channels that can alternatively be used in a 2-channel environment to drive up to four pairs of passive speakers. ​ Built on the latest Class-D platform, the Amp400.8 delivers pristine sound with tight, fast, and solid control. Highly resolving low-distortion power allows users to maximize monitor performance, and an in-house-designed buffer stage complements the amplification technology, improving impedance characteristics and cohesion between channels, thus ensuring precise imaging and phase coherence.
The company's careful sonic matching and quality components help the Amp400.8 work in synergy to drive both 8 ohm and 4 ohm loads, pairing perfectly with all Amphion monitor offerings as well as a wide range of other passive monitors on the market.
For online voting details, please visit: http://tecawards.org/
For more information about Amp400.8, please visit: https://amphion.fi/products/amp400-8/