Setting the record straight on K-Pop!
Insights on K-Pop and the power of Amphion Two18 & BaseTwo25 from Chulsoon Kim
Chulsoon Kim: How did you get your start in the music industry? Did you do formal training in audio engineering or via studio apprenticeship/real-world skill acquisition? Do you have any engineer-mentors who have inspired or guided you?

I was first exposed to the field of sound engineering through a magazine known as Sound Art during my time at university. After compulsory military service, I started to search for renowned recording engineers in Korea. And that is when I came across Jinyoung Lee and decided to contact him. It was 2001 when I started to work for Rock Records Studio, a record label in Seoul and began my career as an engineer. 

I didn't take formal training. I started to learn the basics from senior engineers in the Rock Records Studio. I have learned in-depth through disappointments of myself and scoldings of the senior engineers as I work on different projects.

I would say my mentor was Yang Soo Noh. He was an engineer at the Rock Records Studio and for me, he was one of the best teachers one could have. I would sit in the back of the studio and admire musicians working on their tracks. And the day I first listened to an album titled '다시 사랑한다 말할까 (Contemplating to tell you I love you)'  in the studio for the first time remains so memorable to me. These are the significant moments that influenced me greatly. To this day, my goal is to recreate that emotional experience from those moments when I work on a ballad or acoustic song.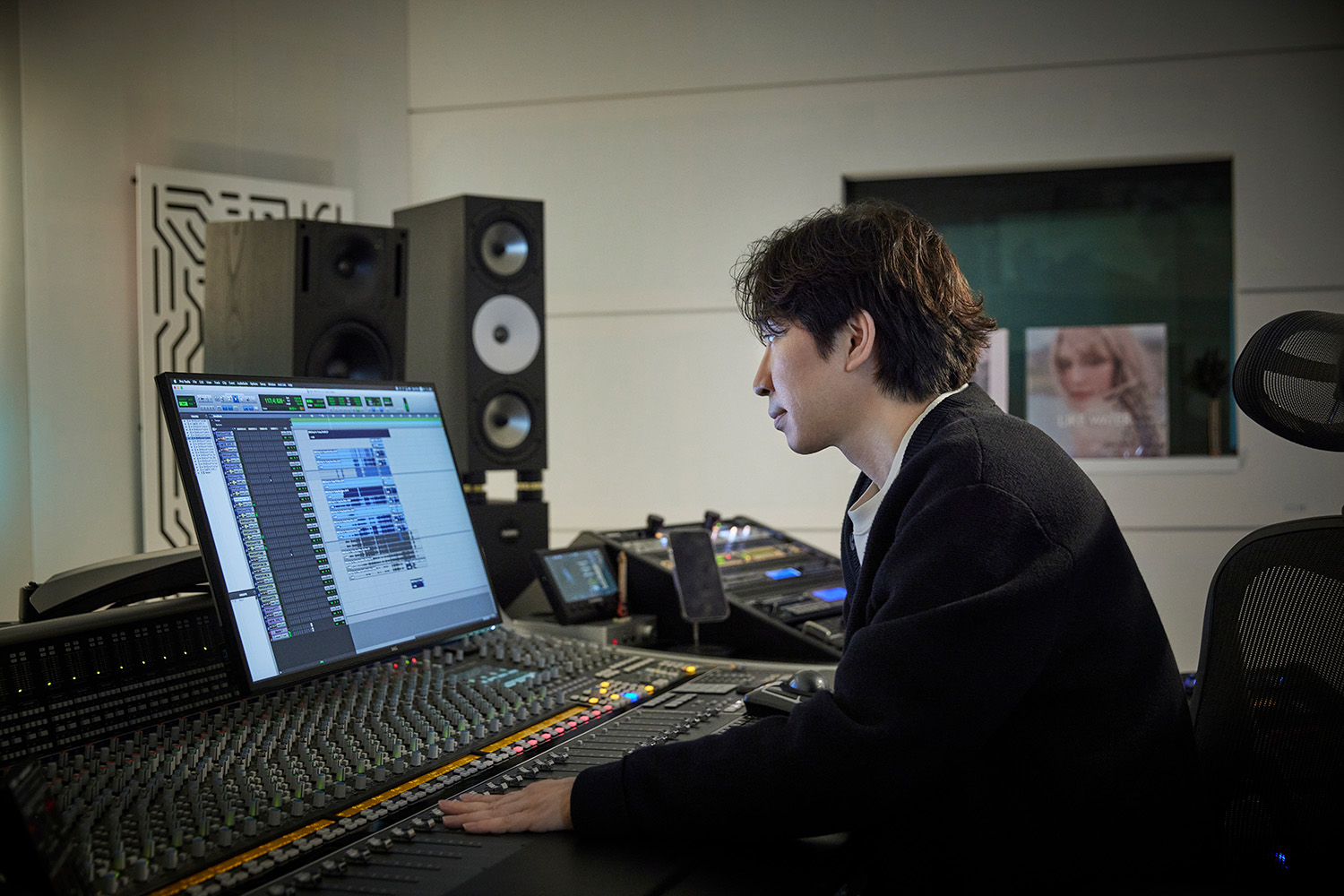 Studio Work History: Currently you are at SM Blue Ocean Studio. When did you commence there, and tell us a little about SM Entertainment. Is its focus predominantly K-Pop? What are some of the studios you have worked at prior to SM Blue Ocean Studio?
I have worked in SM Entertainment's studio since 2013, which makes it my 9th year and counting. SM is an entertainment group that remains the pioneer of the K-Pop industry and a prominent figure behind the massive globalization of K-Pop music. We not only focus on developing unique artistry but also recreating fan platforms and leading metaverse space. The main goal is to combine art and technology as we transition from a traditional record label to an all-around entertainment corporation.

People often perceive K-Pop as generic dance music, so I wish to clarify our endeavors further. SM Station is a platform where we release various different genres of music. There is another channel called SM Classics, which I have not participated in yet, and through this channel, our composers are also working on reinterpreting an existing musical catalog into classical music.

I have worked for about a year in Rock Records Studio, which I previously mentioned, after joining in 2001. In 2002, I was at T Entertainment Studio, which serves as a home to Jong Shin Yoon, Jung Hyun Park, and Rollercoaster. Afterward, I began working for Lewis Studio, owned by Seung Cheol Lee (a famous Korean singers/producers), in 2004. In 2007, I worked at the Vitamin Studio, which had artists such as MC the Max, Rumble Fish, Hye Kyung Park, and Wax. I briefly worked as a freelancer in 2010 up until I joined SM Entertainment.
SM Blue Ocean Studio: What Amphion's Two18 and BaseTwo25 make up your monitoring system. How do you find these speakers? Do they bring a noticeable difference to your workflow and end-results? What are some of the merits you have found using Amphion? And what desk, outboard rack gear, and plug-ins do you run?
We had to set up new studios when SM Entertainment moved its headquarters. We had the chance to listen to Amphion speakers when we visited Gearlounge's GLAB Studio to check out Artnovion panels. I was looking for a new pair of speakers at the time, Amphions' sounded exactly like what I expected from monitors. Thus, I decided to buy Two18 and BaseTwo25 for my studio.

Above all, working with BaseTwo25 allows for more daring bass control. Consequently, having that much control in the bass frequency allows for a better approach towards high and mid frequency for more stable results. Amphion, unlike other monitor systems that I have used before, recreates the feeling I had working on the song even when playing it on different sets of speakers or environments without ever losing the balance.

Amphion provides the clarity and cleanliness of sound without any exaggeration. Also, the excellent stereo imaging capabilities allow me to place instruments and vocal tracks exactly where I want them to be. Hence, the tone-shaping process of vocal and instrument tracks and balancing and creating a cohesive mix felt much more seamless without any hassle.

I use SSL AWS 924 Delta for the console duty, Amphion Two18 and Base Two25 for monitoring, and Genelec 1031 as a secondary monitor. My assortments of outboard gears include API 550b, API 5500, Chandler Limited Curve Bender EQ for equalization, API 2500, Chandler Limited LTD-2, Dangerous Music Compressor, Retro Revolver, Distressor EL8 Rev – Bricasti M7 for compression. For plug-ins, I utilize UAD, Fabfilter, and Soundtoy plug-ins on Pro Tools. I consistently update the studio based on my needs.
Artists: We note you have worked with many notable K-Pop artists and bands – NCT, KANGTA, BoA, TVXQ!, SUPER JUNIOR, GIRLS' GENERATION, SHINee, Red Velvet, Aespa, etc. which are part of the SM Entertainment artist stable. Does each require its own individual sonic mix-character or do they need to fit a formulaic approach (eg. wall-of-sound or some other production formula ?)
There are a few rough outlines of characteristics of sound that the company prefers. I base the foundation of the mix on it. However, I create individualism in each track depending on the choreography and emotional aspects of the music. Recently, music videos, trailers, and choreography videos of the artist have often been used as deciding factors in how the mixdown would sound.
Studio Tracking vs Mixing Approach: We hear that any K-Pop album production involves a collaboration between multiple lyricists, songwriters, and producers. That seems very "crowded". As the tracking/mixing engineer, how do you manage the "creative differences" between them all? And ultimately, how many mix-versions do you release? (eg. for car, portable device, club vs live-event, home-system playback, etc) ?
When the mixdown tracks are exported, there need to be about two to three mix confirmations to be finalized and sent off for mastering. We have many writers from overseas, so there mostly aren't many comments. However, I always consider how the writers intended the mix to sound through their demos.

In most cases, the artist and A&R in charge will combine and send their finalized feedback for my adjustments. And I always try to cater more to the artist's opinion. Sometimes there can be balancing, tone-shaping, and stereo imaging necessities that must be kept. That is when I will try to convince them by showing comparisons of with and without the adjustments.

SM Entertainment usually has just one final mixdown in most cases, except for an incident where I worked on K-Pop group NCT127's song, '영웅(Hero)'. The mixdown had an exaggerated bass frequency, so the record label requested a mixdown with the bass to be reduced by -3.6dB for live performance usage. Usually, there is only one final mixdown unless different versions are necessary.
Future Music: There's been much talk in the studio world since Apple announced its "Spatial Audio" aims in July 2021. What is your take on Dolby Atmos, 360 Reality Audio, etc?

I have installed a Dolby Atmos set up at home with the sole purpose of watching movies, and I have to say Spatial Audio is more than intriguing.
However, I could not relate deeply as the Dolby Atmos content currently available in the market is only for listening purposes. Also, it simply is a conversion of music mixed in stereo to Dolby Atmos format. The musical usage of Dolby Atmos did not impress me. This is because I have been consuming movies and series supporting it at my home and cinema for the past four years. Furthermore, Dolby Atmos could demand wider adaptation if there is a video accompanied by music arranged for Dolby Atmos for all or just a few songs on the album. Obviously, there might be someone out there already tackling the very idea.

Audio accompanied by visuals would be far more entertaining, and it would be easier to distance itself from the general stereo formats.

For more information about Chulsoon Kim @chulsoon0824
For more information about Gearlounge https://gearlounge.com 
For more information about GLAB Studios 스튜디오 A | 글랩 스튜디오 (glab.studio) 
For more information about Amphion Two18 | Amphion 
For more information about Amphion BaseTwo25 | Amphion