Misha Mansoor – Monitoring and Mixing with Amphion studio monitors for best translation
Recording and mixing
Born and raised in Washington DC, Misha Mansoor is considered to be one of the forerunners of the Djent movement. He founded, and is lead guitarist of, the progressive metal band Periphery, as well as being involved in several other projects: Haunted Shores, Of Man Not Of Machine, and an electronic project called Four Seconds Ago.
Though neither parent played any instruments nor was involved in music, both Misha and his brother and sister proved to be very musically talented and were encouraged to develop their gift. "I was forced to take piano lessons when I was young, which I was not very happy about," says Misha who soon switched to drums and guitar which were his preferred instruments. Misha mostly learned by himself – "not the most efficient, but a certainly more enjoyable way of learning" as he says.
Now, a producer, artist, programmer, and occasionally a mixer, Misha describes himself in short as a composer. "I do tend to take on various other roles when needed, but composing is the most exciting for me," admits Misha. He considers writing music as his main strength, especially when sharing a positive creative vibe with other artists.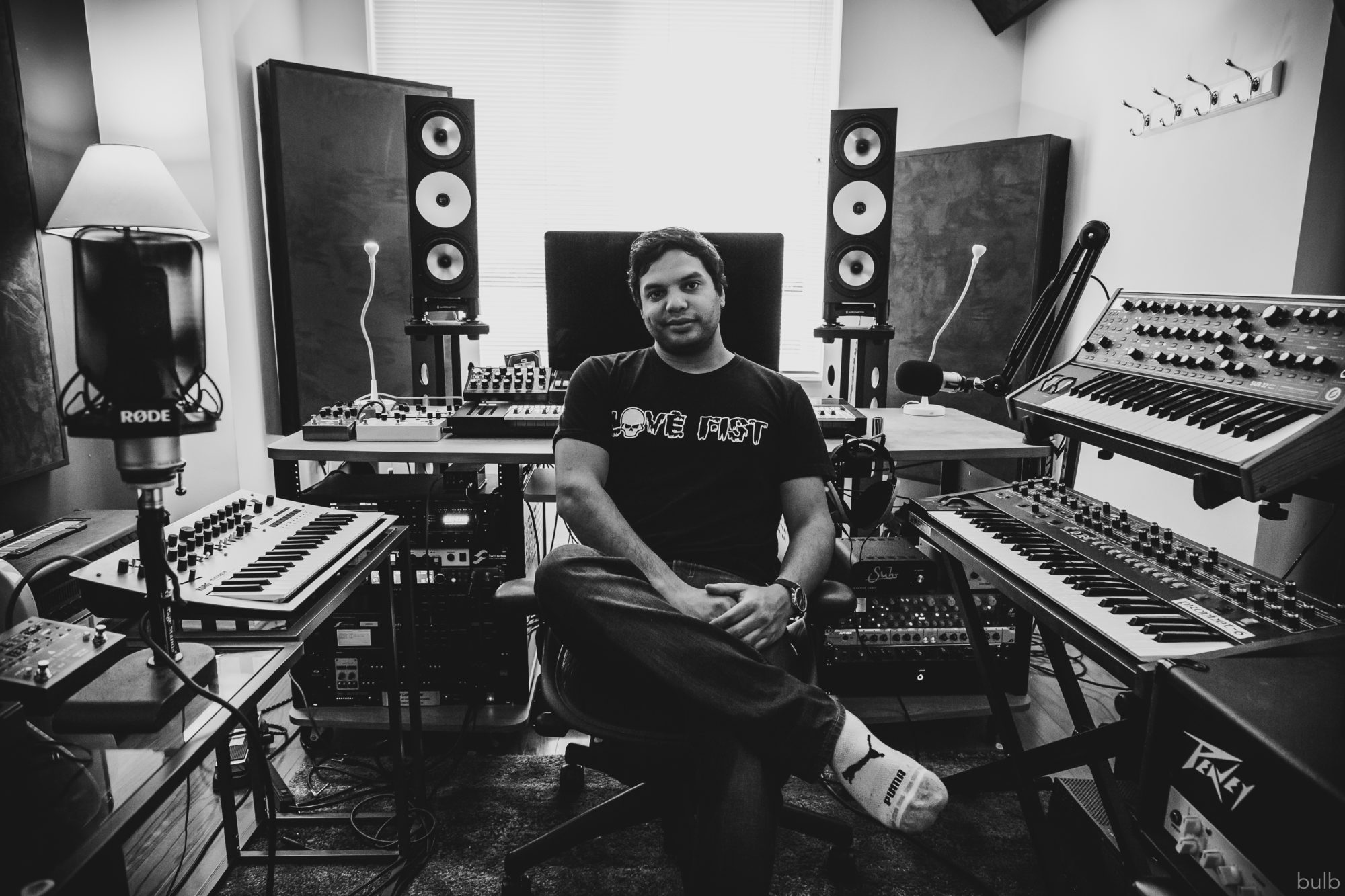 "I feel like chemistry and overall vision is very important when working on a project, with that comes trust and putting the ego aside and trying to look at the big picture," says Misha.
Misha has an unconventional approach to writing music. Most people would expect Misha to start with drums but lays down a melody or riff, and then builds upon it. "When I write a melody or riff, I generally have a sense of what I would want the other instruments to do, which makes it easy to expand on those ideas," shares Misha.
Misha's studio weapons-of-choice are a Focusrite Red 8Pre interface and a Liquid Saffire 56 when more channels are needed. In addition to a fair collection of plugins, Misha still uses some outboard hardware such as Fractal Audio Axe-Fx III and Axe-Fx II XL which are useful for guitar and bass, and sometimes synths. His synth collection consists of a Moog Sub 37, Moog Minitaur, Sequential Prophet-6 and a Korg minilogue. "For guitars, I have been using my Jackson Juggernaut signature guitars into my Peavey Invective head. In addition to those, I have too many guitars, amps, and pedals to name, and those usually get captured with a Suhr Reactive Load and a Two Notes Torpedo Live," adds Misha. For MIDI controller he uses a Native Instruments Komplete Kontrol S61 with a FaderCtrl CC controller.
According to Misha, monitoring is incredibly important to be able to mix at any professional or semi-professional level. "It should ideally be giving you all the information that you need so that you can make educated and smart mixing moves that will yield a good and balanced mix that will translate well," says Misha. To perfectly respond to his monitoring demands, Misha uses a pair of Amphion Two18 studio monitors powered by Amphion's Amp500 – introduced to him by producer and friend Taylor Larson. Taylor was very pleased with the results he received with the Amphions and very content in the fact that after long sessions he had no ear-fatigue. "That sounded ideal for me, and thus piqued my interest in the brand and monitors," remembers Misha.
"I was very surprised at just how revealing and detailed the monitors were. The transients were very precise and present, and yet the monitors weren't overly bright or hyped in the high end," Misha recalls after his introduction to Amphion.
"I personally find that they manage to be unflattering and truthful to the audio that is passing through them in a way that is only useful," says Misha and adds: "You can hear your mixing moves, even when they are very small, and the detail and soundscape just allow you to place everything perfectly both spectrally and in the stereo field."
According to Misha, the two most important benefits of Amphion monitors are translation and this lack of ear-fatigue. "I find that my mixes tend to translate to other systems better than any other set of monitors that I have ever used before, and that they are very easy on the ears on long sessions. This makes them ideal for long writing sessions where I want to mix at the end of a long day."
A talented, creative, and multi-functional artist, Misha says that he does not want to be lazy. And laziness is the last word to come to one's mind when talking about Misha Mansoor – frontman of the contemporary progressive metal, and running a number of various projects with one thing in common – music perfection. Amphion studio monitors are just another tool in his technical arsenal, contributing to best revealing Misha's musical gift.
Learn more about:
Two18 studio monitors