The "Open Studio" Project – Taiwan
Over three successive, full-weekends in March 2022, Amphion's pro-audio distributor, SonicLab Taiwan, coordinated an "Open Studio" Series.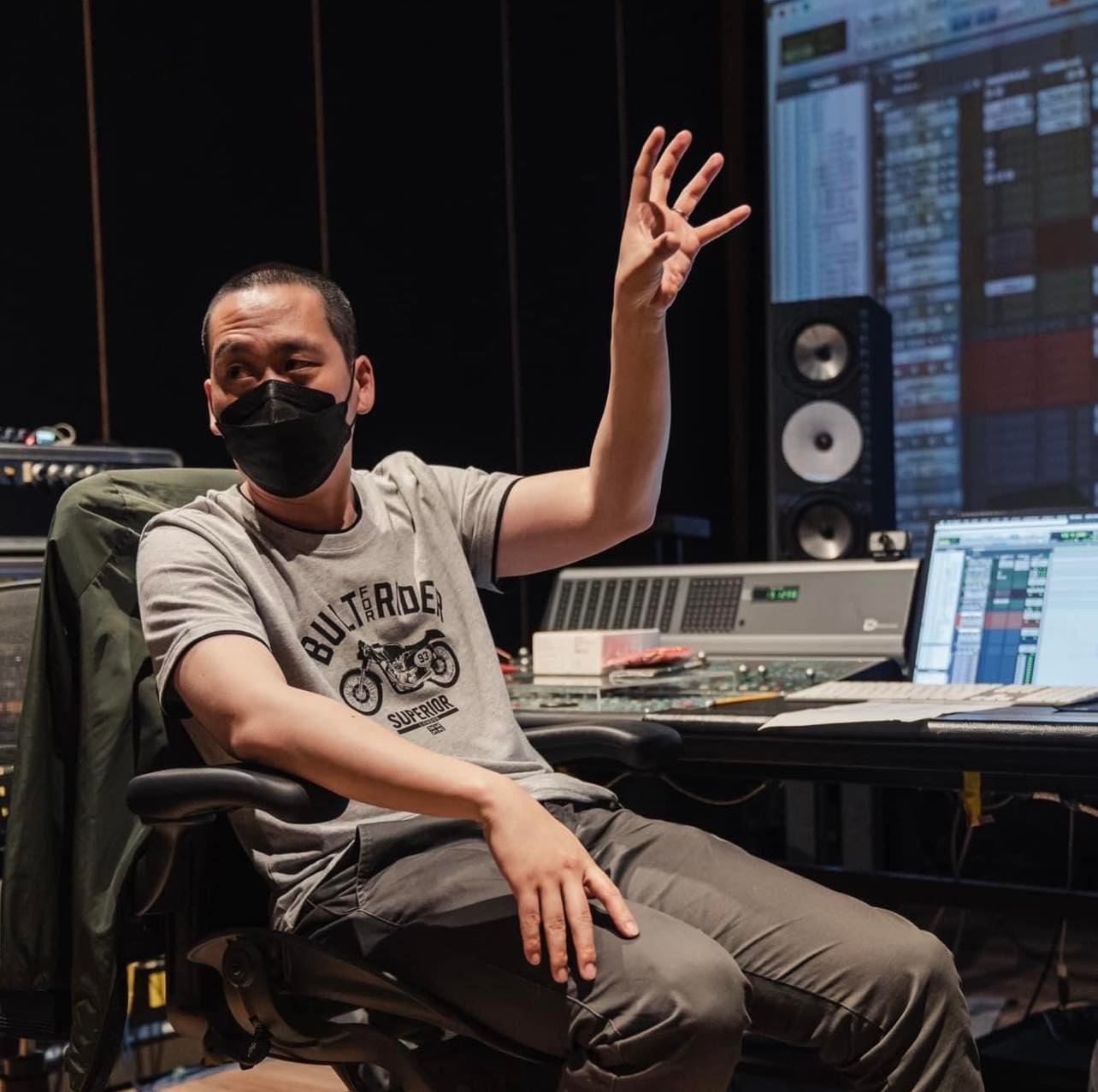 New Taipei City, Taiwan: Over three successive, full-weekends in March 2022, Amphion's pro-audio distributor, SonicLab Taiwan, coordinated an "Open Studio" Series. Six major studios and a large number of top engineers and producers drove gear demonstrations, recording sessions, and special presentations for eager music industry visitors. Amphion's range of professional monitors were a key sonic tool in all venues. This series was held on and at:
■ WEEKEND #1 2022.03.12~13 Lights Up Studio | Saturday Studio
■ WEEKEND #2 2022.03.19~20 B-mic Studio | Fullight Music
■ WEEKEND #3 2022.03.26~27 112F Recording Studio | Yu Chen Recording Studio
With a population of 23.6 million, the country has its own vibrant entertainment industry, and its music reaches all Chinese-language speaking nations. The studios, engineers, and producers mentioned are major influencers due to their production processes, philosophies, studio designs, equipment, and multiple industry awards. Each studio's backstory makes for interesting reading. Translated from the original Chinese, it provides industry perspectives from a hemisphere that may not be familiar to all.
Introduction: Whether popular music, indie bands, or video soundtracks, the sound experience created can change from evanescence to eternity; from sonic entertainment to a work of art. And the recording studio plays a vital role in that process.
Exhibition Organizer: SonicLab Co., Ltd., Jemy Lee
Series Curator: Andy Lin, the Director of "Tripper", invited celebrated music producer TeN, Taiwanese film-music scorer at "CO-OP Music Works", Tzu-Chieh Wen, and acoustic design founder of "Moof Acoustics" Rick Kao, to join him as consultants for the event, and focused on six notable recording spaces in Taipei – Yucheng Cinema Recording Studio, Fullight Music, Lights Up Studio, Saturday Recording Studio, B-mic Studio, and 112F Recording Studio. The concept was to combine their unique stories behind the creating of classic works, trace the development of their space and equipment, and identifying cultural cues for Taiwan's music industry over the years, led participants to see the music generated from the studio context.
When the epidemic in Taiwan entered its third level of alert, all activities, regardless of type, were completely suspended. During this period, not only did we lose the on-site experience of watching the performance, but the production of music declined too due to the many restrictions. And studios and music factories fell silent. This exhibition hoped to pay tribute to the unique factories behind Taiwan's music engineering achievements while music performance heads for a "post-epidemic era". Through the selection of equipment presented in these limited space, we explored how they develop their own different musical insights and production perspectives .
Curators: Andy Lin, Natalie Tsao
Photographer: Meng-Chien Yu
Video: (Ken Yumeno)
Copywriter: Iris
Executive Consultation: Vincent Juo
■ Lights Up Studio | facebook.com/pages/Lights-Up-Studio/
Owner/Studio Manager: TR Lai
Presenter/MC: TR Lai, Jemy Lee
Day #1 Engineer: Chou Han Tsay – 32nd Golden Melody Awards | Best Vocal Album Recording
Day #2 Engineer: Link Shan | Recording Assistant: Yu Shih Cheng
Day #2 Producer: TeN
Day #2 Pianist: Cosine Tseng | Vocalist: Pinan
Featured Demonstration Equipment: Amphion One18 | Amp700, Wes Audio, Prism Sound
Studio Profile: Hidden in a commercial building, Lights Up recording studio integrates auditory and visual arts, and life design. In order to assist musicians to produce songs in a more comfortable and private environment, LCGA He Rui Design was invited to assist in the vision, design, and renewal of the recording studio. Established by senior recording engineer TR Lai, it is a well-known studio where many singers, musicians, and creators have long-term cooperation. From the popular analog tape-to-tape in the 1970s to the emerging Dolby Atmos 7.1.4 in recent years, recordings are produced in a variety of ways, in professionally designed chic spaces to make the instruments sound more faithful.
Unlike other studios that prioritize recording equipment, a space designed with a balanced frequency response is considered a precious piece of hardware by Lights Up. The recording studio and control room closely adhere to the principle of professional acoustics, and the concept of musical notes and sound waves evolves. Regardless of the material selection, ceiling angles and other issues regarding sound insulation, sound dissipation, and sound absorption, have been carefully selected and calculated to achieve the ideal of both functional beauty and aesthetics. The main mixing system adopts API 1608 32 Channel Console and ATC SCM300ASL/Amphion One18, including a rare Hammond B3 organ, Steinway B211 grand piano, eight sets of drumkits with 40 snare-drum options, and with its newly completed expansion, Lights Up Studio truly is a professional space for musicians to fine-tune their compositions, pay attention to every sonic detail, and provide a complete listening environment.
Clients | Artists | Genres: YELLOW Huang , 9m88, Khalil Fong, JJ Lin, Ding Dang Della, Jiajia, LaLa Hsu, Yang Naiwen, SHE, Yoga Lin, Eiji KADOTA, Hello Nico, and Eli Hsieh are a selection of name-artists that have produced works here in Pop, Jazz, Rock, Hip-hop, and Folk music styles.
■ Saturday Studio | facebook.com/saturdaystudiotaipei/
Owner: Even Hsieh
Presenter/MC: Chin, Jemy Lee
Day #1 Engineer: Chin
Day #2 Engineer: Jonathan Liu
Day #2 Producer: CYH
Day #2 Rapper/Singer: V
Featured Demonstration Equipment:: Amphion Two18 | Amp700
Studio Profile: Owner Even Hsieh, former recording engineer at Platinum Recording Studio and Fenghua Records, establishedSaturday Studioin 2012 – the "name" recording space for many well-known singers. The original site was a factory, and the industrial elevators used in the old factory were retained, with the space was divided into two sections. It was drafted and designed by Ben Wang (of Studio de la Mer Mastering). The tracking room was designed with a super-high height (Room Sound) which makes the instruments sound thick and natural after mixing.
Lynx Aurora 16-HD AD/DA converter and Avalon VT-737sp units were added to improve the recording quality. It offers a wide variety of dynamic and condenser microphones including the classic AKG C12 directional microphone – whether for guitar, drums, piano or violin – capturing depth and width of the sound field precisely.
Clients | Artists | Genres: Focusing on making pop music, artists have included Julie Sue, Lo Ta-yu, Chung Chun To, Terry Lin, Mini Yang, FIR, Selina, Alexander, Leehom Wang, A-Lin, Richie Jen, Jimmy Lin, Angela Zhang, Alien Huang, Shin, Van Fan, Vivian Hsu, and A Fu. In 2021, Shi Shi's fifth album "Where is SHI " won the Golden Melody Award for Best Singing Recording Album.
■ Fullight Music | https://fullightmusic.com
Owner/Studio Manager: Derek Tsai
Presenter/MC: Derek Tsai, Jemy Lee
Day #1 | Day #2 Engineer: Lan Chen
Day #2 Producer: TZU-CHIEN WEN
Day #2 Pianist: Yu-Hsiang Huang | Trumpeter: Hawaii Liang
Featured Demo Equipment: Amphion Two18 | Amp700
Studio Profile: After years of exposure to music and creation, Derek Tsai discovered a strong interest in recording and mixing, first opening in Linkou, New Taipei, and then expanding to downtown Taipei. From the planning to designing to the construction, no detail was spared in order to provide a professional and comfortable recording space. Fullight Music has a professional team with exceptional technical skills, and years of experience to achieve the sound performance that musicians yearn for. The Surround Mixing Room was upgraded to a Dolby Atmos Mixing Room in 2021. Adding upper-row speakers, the playback gives a three-dimensional, natural, and realistic immersive sound field.
Aiming for an "absolute professional" sonic environment, we separate AD/DA, Clock, and Preamp to achieve the option of multiple voices. The system uses Dante Audio to transmit sound through the network, reduce distortion, and reduce mutual interference between cables. The main speaker uses ATC designed with special materials and precise tolerances, and uses the master-level AD/DA product Crane Song HEDD Quantum as the Master Clock – providing extraordinary AD/DA sound quality and clocking performance, Derek, the music director of Fullight, recognises the importance of clocking for the whole system and its high impact on the sound.
Clients | Artists | Genres: "Deep Evil" was the first feature film that Fullight Music received. Usually, after the soundtrack is mixed, the output track is expected to make the final result flexible and adjustable, so it took some time to adjust the IO and Aux Input settings at that time. time. As more film mixes were produced, a set of original templates were gradually accumulated, and as a result, the recording of documentaries, film scores, and dubbing work became smoother.
■ B-Mic Studio | https://www.bmicstudio.com
Studio Manager: Jil Huang
Presenter/MC: Jil Huang, Jemy Lee
Day #1 Engineers: Jil Huang, Johnny Fang
Day #2 Engineers: Jil Huang, Johnny Fang, TeN
Day #2 Mixing Demo Show Producer/Engineer: TeN
Featured Demo Equipment: Amphion Two18 | Amp700
Studio Profile: Hidden in the downtown area of Tianmu, B-Mic Studio is quite different from other recording studios. The person in charge is not a recording practitioner, but it very focused on "providing a working space for domestic musicians with international standard equipment". When it came to equipment procurement, the ideal working environment for musicians was the driving force, creating a professional spatial acoustic design and ingenuity.
Paying attention to the level of support and intuitive operation, the B-Mic Studio workspace is equipped with SSL Duality SE and SSL AWS 948 analog mixers, Pro Tools | HDX – the industry-standard digital recording interface – to record music ranging from orchestral to hybrid immersive audio.
Clients | Artists | Genres: In 2017, he planned the "A Song of Suspense" to promote the music festival of synchronous recording culture. In 2018, he continued to cooperate with Xu Yuguang (Isidore Hsu) of Lifeng Studio (1977-2018) , participated in albums such as Bobby Chen and Shengxiang Band, and joined the Nanguan and Hakka cultural stacks. Widely related audio production. Recently, he has performed the soundtrack of the theme song of the movie "Man In Love" and the recording of the annual drama of the Gezi Opera of Minnanyu Culture.
■ Yu Chen Cinema Recording Studio | facebook.com/YuChenCinemaStudio/
Owner: Andy Baker
Presenters/MC: Andy Baker, Jason Hsu, Jemy Lee
Studio Manager: Jessica Lin
Day One Engineers: Andy Baker, Jason Hsu
Day Two Engineer: Isidore Hsu
Day Two Producer : TZU-CHIEN WEN, Sammi Lin
String Quartet: Wan-Chien Yang, Hsang-chu Hong, Ko-ni Chen, Pei-lin Shao
Featured Demo Equipment: Amphion Two18 | Amp700
Studio Profile: Andy Baker decided to open Yu Chen Studio as he had been working in Taiwan as a mixing engineer, and although he liked tracking, he did not feel he could capture the natural reverb that he liked and was used to having while tracking some instruments in the studios that he had worked in – especially drums, strings and horns. Andy wanted a real room reverb sound, and the only way he could get that was to have a big enough space. When he found a closed movie theater, he knew it could work, as the ceilings would be high enough and the space large enough to divide as he saw fit ie. a design-intent not meant to feel like a studio but rather a place for being creative and could record performances. It would be Taiwan's first studio designed as a synchronous recording environment.
Yu Chen Studio is a three-room premises – one large and capable of recording live bands, jazz bands, and orchestras; another room for DI recording and vocal tracking; and one a dedicated mixing room. The space is a combination of old and new, as it was formerly a movie theater with many historic items and features. The original theater scenes have been preserved and considered indispensable backgrounds for video, graphic shooting, and various events. In the future, the unique cultural aspects of Taiwan's traditional music will be introduced to the world through live broadcast.
Building Yu Chen Studio was a huge challenge – not only the language barrier that Andy Baker had to face, but also working with the sheer size of its space. There were many difficult steps to go through during the build, and so much of the work was performed by its internal team rather than outsourcing – due to budget constraints. As there was little/no experience in sound proofing and sound isolation, many processes took longer to complete and had to be done again and again to correct it.
The vintage instruments are considered a key aspect of the sound of the studio – drums, synths, electric pianos, and the 1965 Mason and Hamlin grand piano (brought back from the USA). These go to the source of the sound and felt more familiar and correct for the team. A Drumbrella, designed specifically for the studio, concentrates instrument sonics giving a three-dimensional character when recording. They consider the Neve Custom 75 console as best addition to their gear. It retains its original circuit design, but has been improved with new modern technology, greatly reducing the previous analog noise, obtaining a cleaner and more powerful analog sound.
"It was a very obvious improvement the day we installed it. Over time as we dig further and further into the ways we can pull out bigger and better sounds, we just keep liking the board more and more. It's got a very warm tight bottom end and a never harsh smooth top end. It's a joy every day to work on."
Clients | Artists | Genres: A wide variety of music genres,video shoots, live shows with audiences, live recording sessions with video, commercial recordings, voice overs, podcasts, TV shows, live streaming shows, and movie scenes have been recorded in this facility. (See YouTube channel "Cinemaphonic"). Some notable recordings were made for: The Chairs, Inhuman, The Waiit, Matt Fullen, Misi Ke, No Party For Cao Dong, Runaway Bob (BOB IS TIRED), Da Ka Now, Sunset Rollercoaster, Robot Swing, Leo 37.
■ 112F Recording Studio | https://www.112fstudio.com.tw
Owner/Studio Manager: Zen Chien
Presenter/MC: Zen Chien
Day #1 | Day #2 Engineers: Zen Chien, Hardcore Chen
Day #2 Producer: TeN
Day #2 Drummer: Sandy Lien
Featured Demo Equipment: Amphion One15 | Amp700
Studio Profile: In July 2010, 112F Recording Studio was established by Zen Chien Qian (also the drummer for Miss Pantyhose, 8cm Sky and Doodle). It is a space created by world-class studio designer John Sayers. It was designed and built to exacting professional recording standards, and has a large and two small split-track recording studios – allowing musicians to use Studio Live to capture the most natural performance. The studio's name comes from the house number of the apartment where Zen lived when he studied jazz drums and recording engineering in New York. The recording space has angled surfaces to avoid poor sound reflection, and a four-meter ceiling suitable for drumkit recording.
112F Recording Studio has a deep love of equipment with special sound qualities – as in the diverse colours of a painters palette – which can portray abundant character for various musical situations. The AD/DA conversion system adopted is the Antelope Audio Orion32 bundled with that company's ultra-precise digital clock the 10M with its rubidium core. The recording interface is Pro Tools HDX with its ultra-low latency; the core mixer is AMS Neve 24 Channel Genesys Console, which has the great advantage of low noise and dynamic and full audio without distortion.
Clients | Artists | Genres: 112F Recording Studio has recorded a large number of independent music, mainstream singers, and video soundtracks since 2010, including with more than a hundred groups of orchestras and musicians – and many works born in its studio have also been shortlisted for Taiwan's prestigious Golden Melody Awards, Golden Sound Awards, Golden Bell Awards, Golden Horse Awards, Taipei Film Festivals and many other music-related awards. Sample name-artists/albums that have recorded with Zen include: A-Mei "Paranoid Face", LaLa Hsu "Looking for People", Waa Wei"Still Believe in Love, Bastards", Elephant Gym "Angle", Fire EX. "Goodbye!" and "Youth".
About SonicLab Co., LTD | https://www.soniclab.com.tw
SonicLab provides recording equipment for studios of all kinds – from bedroom studios and small project studios to industrial-class facilities in in Taiwan and the Greater China Region. We offer the latest in pro-audio technology, as well as a wide range of support and consultation services, the best selection of integrated systems, and the best support possible. Our goal is to offer superior integration solutions in new digital technologies and old-school analog designs and provide the essential tools for engineers. SonicLab's staff are veterans of the pro audio industry and media integration in film, broadcast, and music recording facilities in Taiwan. We have also developed customized audio products and solutions.
SonicLab has been servicing post-production facilities and commercial studios since 2002. Thanks to many years of experience in an often volatile audio business, we know how to provide studios the ability to maintain a competitive edge. SonicLab clients have access to expertise and information to help them stay ahead of the curve. While a relatively new company, it has highly-experienced staff who have worked and provided services in the professional audio and video industries for over 15 years – equipment sales, consultation, and all aspects of audio and studio design. With friends and clients in major motion picture facilities and recording studios our fields of expertise include Music Production, Broadcast, Post-Production, Live Sound, and Home & Business AV automation.